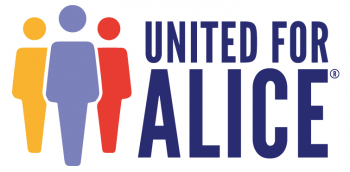 COVID-19 and ALICE
The COVID-19 pandemic has exposed critical shortcomings in our economy and intensified hardship for many households who were already struggling. Before the pandemic, 42% of U.S. households were already unable to make ends meet. This includes households in poverty and those that are ALICE (Asset, Limited, Income Constrained, Employed). With income above the Federal Poverty Level, ALICE households earn too much to qualify as "poor" but are still unable to cover basic household expenses in the counties where they live.
By more accurately identifying need, the ALICE measures can guide better policies and practices to help families weather the current crisis. COVID-19 shows how exposed ALICE households — and therefore all our communities and businesses — are to an emergency.
The report, The Pandemic Divide: An ALICE Analysis of National COVID Surveys, reveals that ALICE families fared significantly worse than higher-income households during the pandemic — financially, physically, and emotionally. This report provides the first look at the impact of the pandemic on ALICE households.