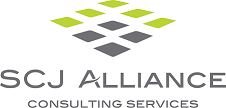 Master plans. Roundabouts. Parks. Corridors. Commercial projects. Fish culverts. Since its founding in May 2006, SCJ Alliance has worked on 3,346 varied projects for public and private clients.
There's a lot to reflect on after 15 years in business. "We've gone from eight people working on Costco folding tables as desks, to 123 folks in ten offices in Washington, Montana, and Colorado," says Jean Carr, SCJ President and CEO. SCJ also became a 100% employee-owned company in 2019.
SCJ specializes in civil engineering, transportation planning and design, environmental and urban planning, landscape architecture, and public outreach.
In 2016, SCJ opened their downtown Centralia office at 212 N Tower Ave. Since then the team has grown to 14, many of them transportation and civil engineers. Office Principal Brandon Johnson, a third generation Lewis County resident, is active on the boards of the Lewis County EDC and United Way of Lewis County, as well as supporting the Centralia College Foundation.
Area projects for the office have included the Borst Avenue redesign, Mellen Street e-Transit Station, United Learning Center, and many schools including Shawn Learning Center, Fords Prairie and Jefferson-Lincoln elementary schools, and Centralia High School. The team has also played a significant role in the Chehalis Tribe's Ground Mound Development which includes Fairfield Inn, Talking Cedar, and Station 88. 
Compared to the early days, SCJ projects are much more varied. Planning includes more stakeholders and considerations. Transportation design goes far beyond roadways and intersections, to include an ever-expanding variety of multi-modal options and even cable-propelled transit.
"We have watched new terms develop – such as Transit-Oriented Design, and now Trail-Oriented Design," says Eric Johnston, SCJ's executive vice president who has led strategic initiatives. "These trends match well with our expertise and experience, as well as our team's passions." Eric adds, "I love seeing our culture embraced by staff ...  integrating business groups and offices and striving to turn every project into something of significance."
What will the next 15 years hold for SCJ? Senior Principal and original President Perry Shea forecasts, "If you ask me where our next office will be, I will say it all depends ...do you have an idea and business opportunity to explore?" He then quips, "My second response will be, I've always wanted an office in Hawaii because the sun is good for the soul."
Time will tell.